Mighty Bite™ is the future of fishing. The only proven 5-sense fishing lure system! Buy Mighty Bite™ today and get these four free gifts: DVD, EZ Guide, UFO Glow Kit and Mystery Gift!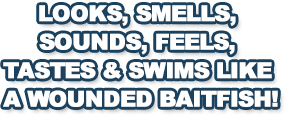 Works for All Predatory Fish
Incredible "Spasmic" Action
Unique Bite-Mark Design
3D Hologram Design
Creates a Powerful Scent Trail
Get Fish to Strike and Strike Often
Appeals to All 5 senses - Sight, Sound, Smell, Feel, and Taste
"Make this the Best Fishing Season of your life with Mighty Bite™!
The ONLY proven 5-sense fishing lure system"
Mighty Bite™ Inventor
Jeff Mancini

Set of 8 hooked and unhooked lures in 2" and 3" inch sizes
8 swimming fins
6 Scent Sticks
4 rattles
4 tail weights
1 jig head
8 weighted and unweighted locking pins and weed guards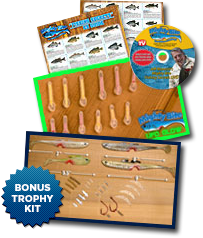 THIS OFFER IS NOT AVAILABLE IN STORES
Fill out the form below or call 800-735-9052 to order your Mighty Bite™ now!